This is an archived article and the information in the article may be outdated. Please look at the time stamp on the story to see when it was last updated.
When it comes to shredding through dead trees or needing to chew through any other type of wood quickly, it's hard to beat a good chain saw. But chain saws, with all their power, can cause extreme bodily harm and even death in the blink of an eye. That's why many come with some key safety features to lessen the chances of disaster. Just remember that no matter what safety features are available, there's no saving you if you refuse to use a chain saw properly.
In this article: DeWalt Battery-Operated Chain Saw Set, Greenworks Corded Chain Saw and Husqvarna Gas Chainsaw.
Power sources
Chain saws run on one of three power sources:
Battery-operated chain saws are the weakest of the bunch, and their batteries rarely last longer than 30 to 60 minutes. But they can be used anywhere and have far fewer maintenance requirements than gas chain saws.
Corded chain saws can't be used in many places due to the cord, but they often have as much power as a gas chain saw without the maintenance requirements.
Gas chain saws are the beasts needed to shred through the toughest jobs, but they're expensive to fuel and difficult to maintain.
Safety features to look for
Chain saws can use a variety of safety features:
Low kickback: Kickback is the term for when your chain saw suddenly hits something or gets stuck, causing it to jerk unexpectedly. Low kickback is an optional feature found on chain saws meant for use by people new to them. Essentially, it means that the chain saw's power is limited so that when kickback occurs, it's not as severe. The downside is that you may not have enough power for more intense tasks. Kickback is inevitable, no matter how weak the chain saw, so once you get used to handling it you should upgrade to a stronger chain saw without low kickback.
Chain brake: A chain break is a system by which a chain saw recognizes if you've lost control of it. The second control is lost, the chain stops moving while leaving the engine running. Usually, this system is tied to a secondary handle that needs to be held down. If your hand slips from it, the chain stops. Not all chain saws have one, so always double-check for one before making a purchase.
Easy tension adjustment: In order to avoid many accidents, it's imperative that your chain saw's chain always be appropriately tense. Some chains can be more complex to adjust than others, so while an easily-adjustable chain isn't technically a safety feature, it sure doesn't hurt either.
Other requirements for safely using a chain saw
Using a chain saw safely isn't just about what safety features one may have. It's also about respecting the machine and adhering to several safety protocols.
Understand your chain saw: The number one way to prevent accidents is to understand how your chain saw works, front to back. This means reading the manual, conducting proper maintenance and understanding how to kill the power quickly in an emergency, among others.
Wear protection: Just like you still wear a helmet despite having ridden bikes for years, you should wear protective gear when using a chain saw. This means clothing that covers as much of your body as possible, firm shoes, good work gloves and ear and face protection.
Ensure good balance: Circling back to firm shoes, never use a chain saw unless your feet are firmly planted on the ground. If you're unbalanced, or worse on a ladder, a small tug from the saw can send you and it careening.
Don't overreach: Chain saws become exponentially more dangerous the further away from your body you hold them. To maintain proper safety, only cut things that are directly in front of you and never cut anything above your shoulders.
Double-check the area: After every other protocol is followed, do one final check of your work area. Ensure no living thing is nearby and triple-check what you're about to cut to ensure you don't cut through something you shouldn't.
Best battery-operated chain saws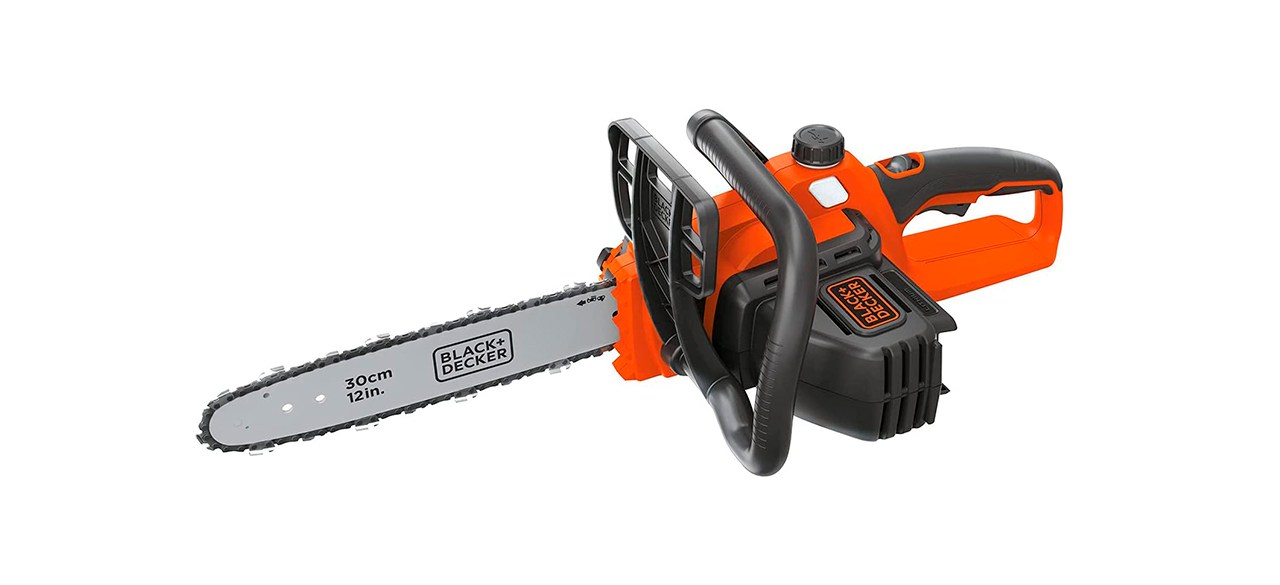 Black and Decker Battery-Operated Chain Saw
This chain saw has a front hand guard and a lock-off button for extra protection and safety, plus a tool-free chain tensioning system. It weighs just 10.4 pounds and has a 12-inch blade.
Sold by Amazon and Home Depot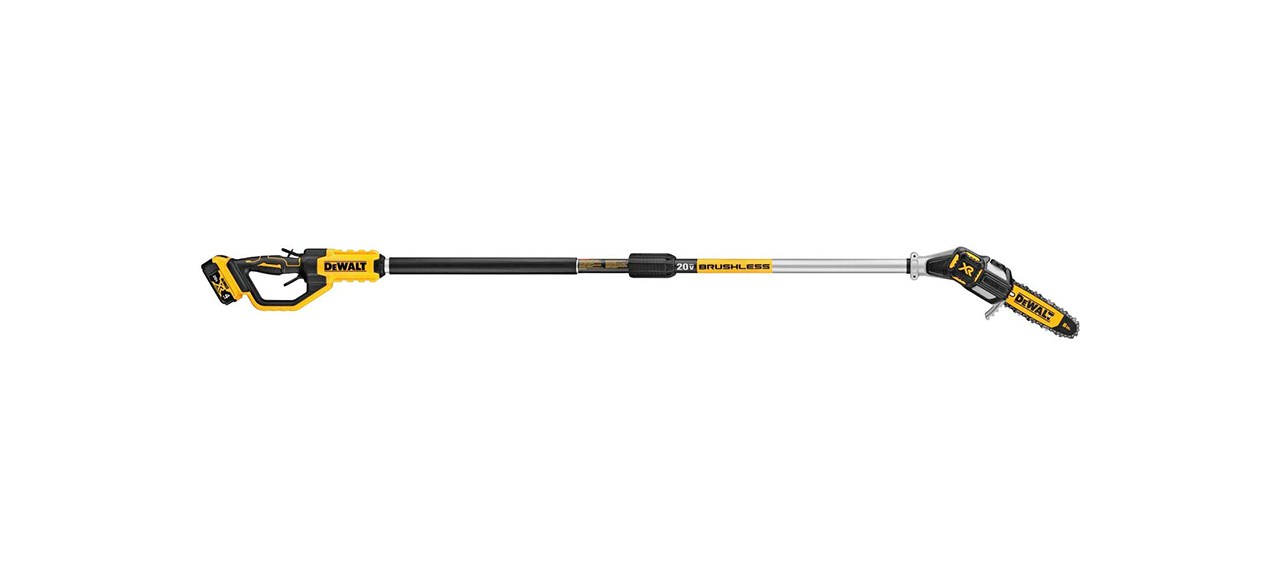 DeWalt Battery-Operated Chain Saw Set
This set includes a hedge trimmer and a pole-mounted chain saw so you can get to those hard-to-reach spots around your home. It also includes a battery and a charger.
Sold by Amazon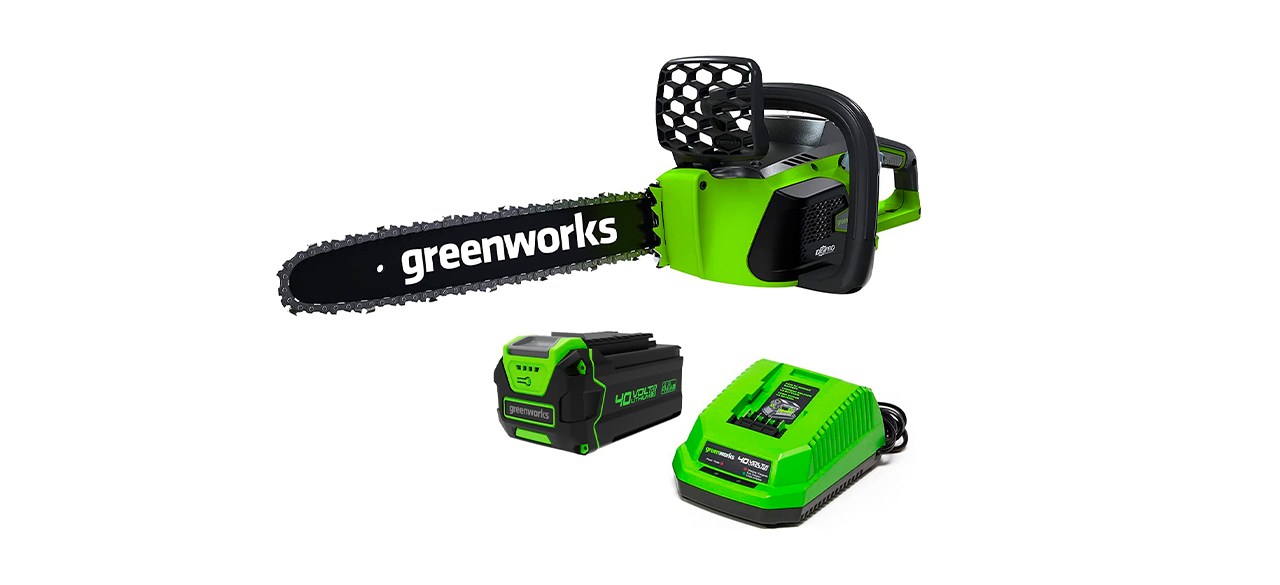 Greenworks Battery-Operated Chain Saw
This chain saw has a 16-inch blade and a 40-volt motor. It comes with a battery and a charger. It uses a simple push button to start it and has an automatic oiling system.
Sold by Amazon
Best corded chain saws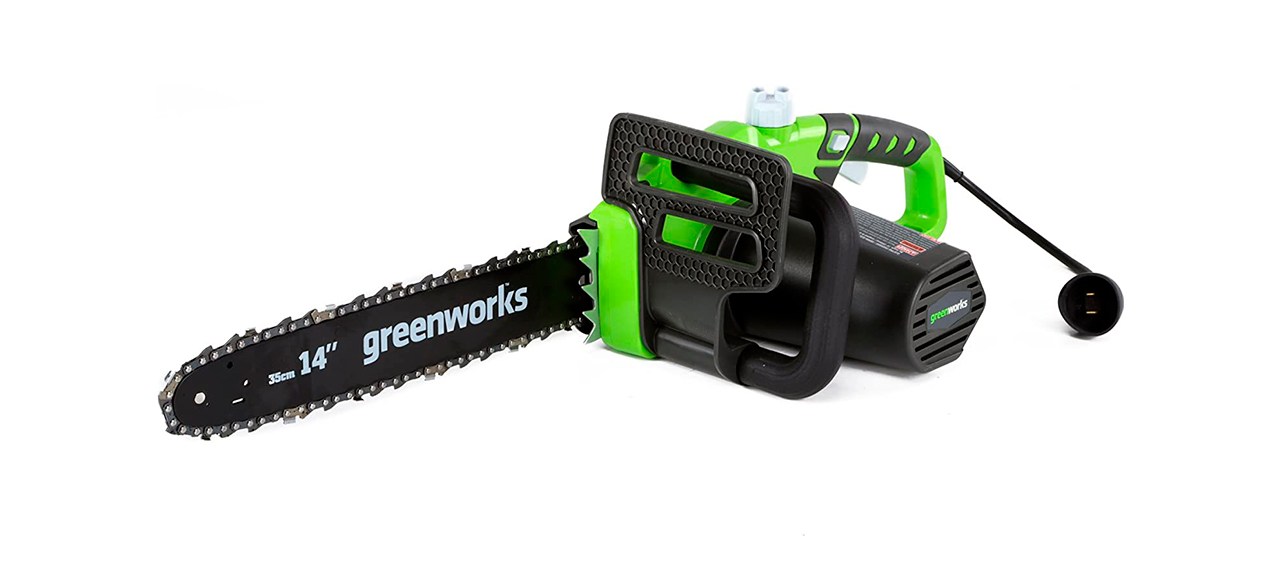 This chain saw starts up in seconds and has a 10.5-amp motor to power its 14-inch blade. Its chain can be adjusted without tools and it has a front hand guard.
Sold by Amazon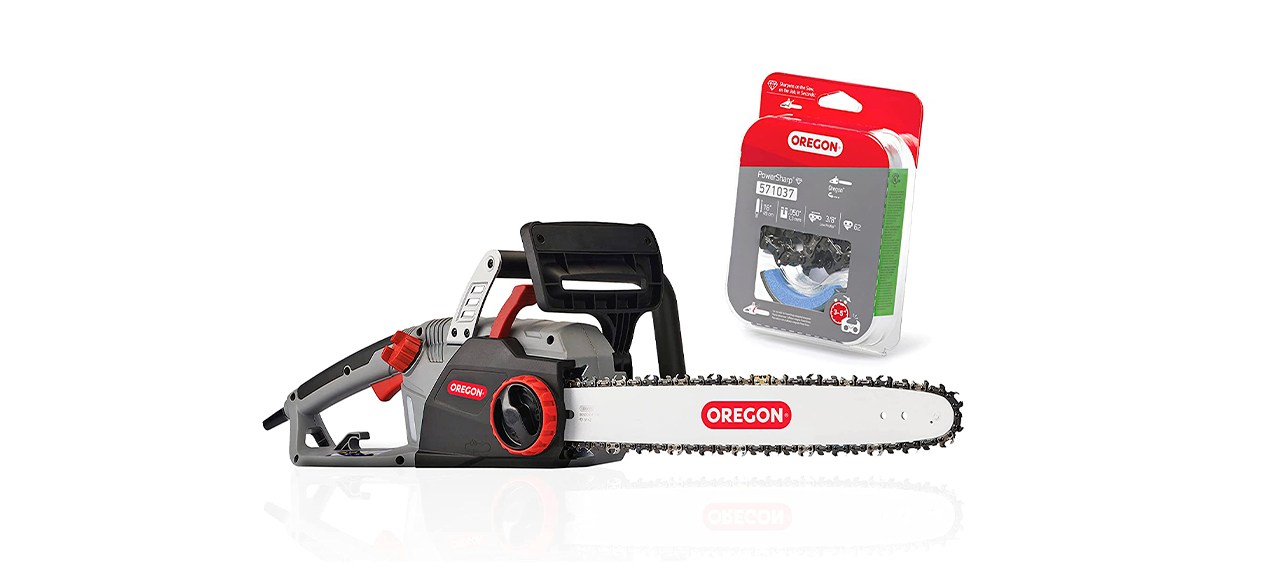 This corded chain saw's blade is a little longer than most at 18 inches. It starts up instantly, has an automatic oiling system and comes with an extra chain.
Sold by Amazon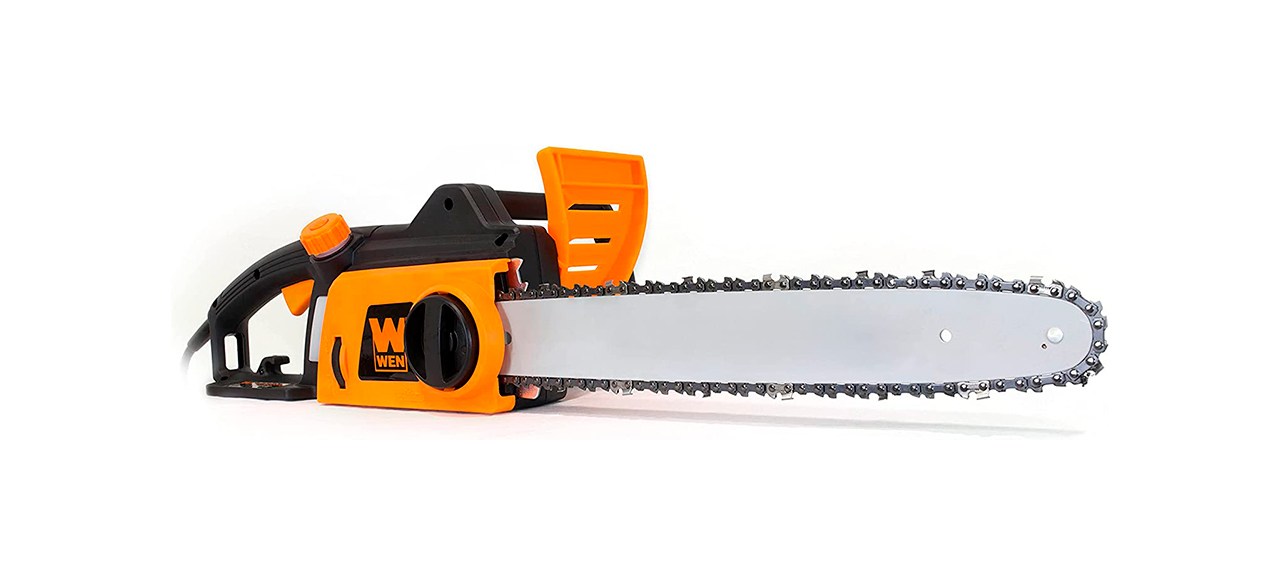 This chain saw comes in with either a 9-amp motor and 14-inch blade or a 12-amp motor and 16-inch blade. Regardless, it has a front hand guard and requires no tools to adjust or replace the chain.
Sold by Amazon and Home Depot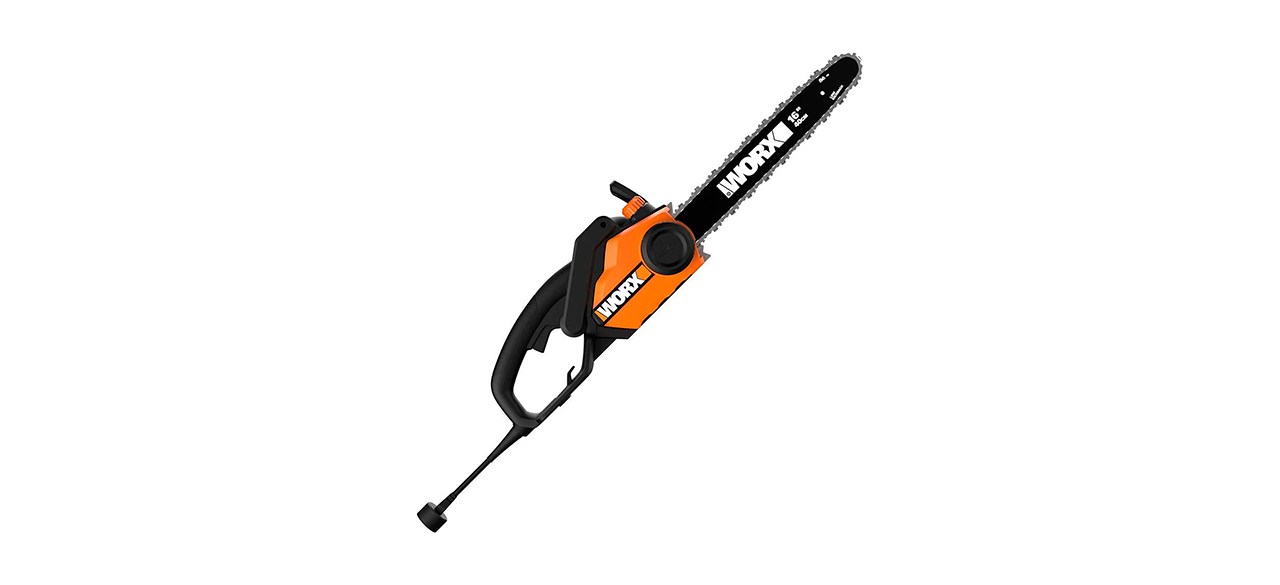 This chain saw has a full-wrap handle so you can hold it safely and comfortably in a vertical or horizontal position. It also has a chain brake and automatic tension adjustment systems.
Sold by Amazon and Home Depot
Best gas chain saws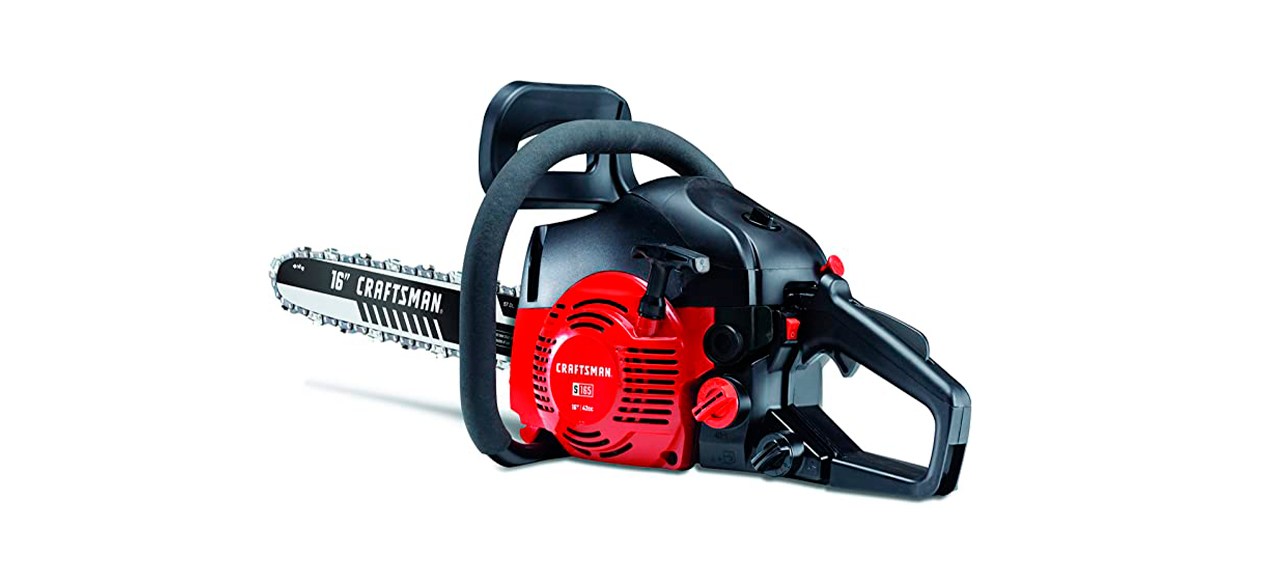 This chain saw has a 16-inch blade with a two-cycle engine. It has an automatic chain oiler that you can adjust to ensure the proper amount of oil on the chain.
Sold by Amazon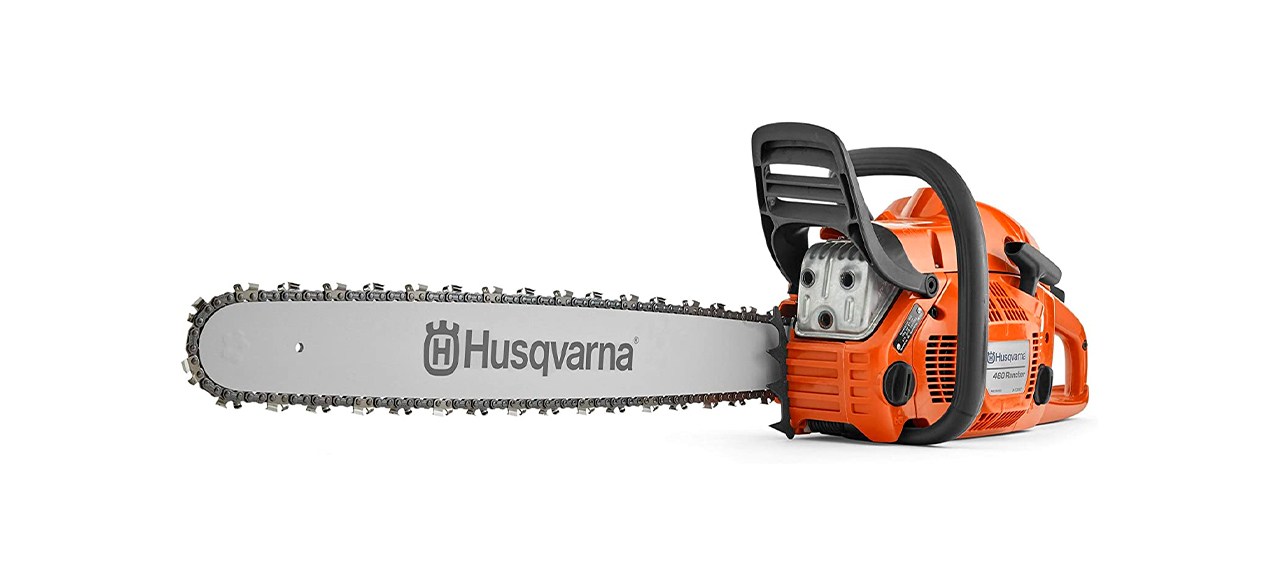 This beastly chain saw has a massive 24-inch blade and a 3.6-horsepower engine. It also has an air cleaning system that expels dust and large debris before they can reach the air filter.
Sold by Amazon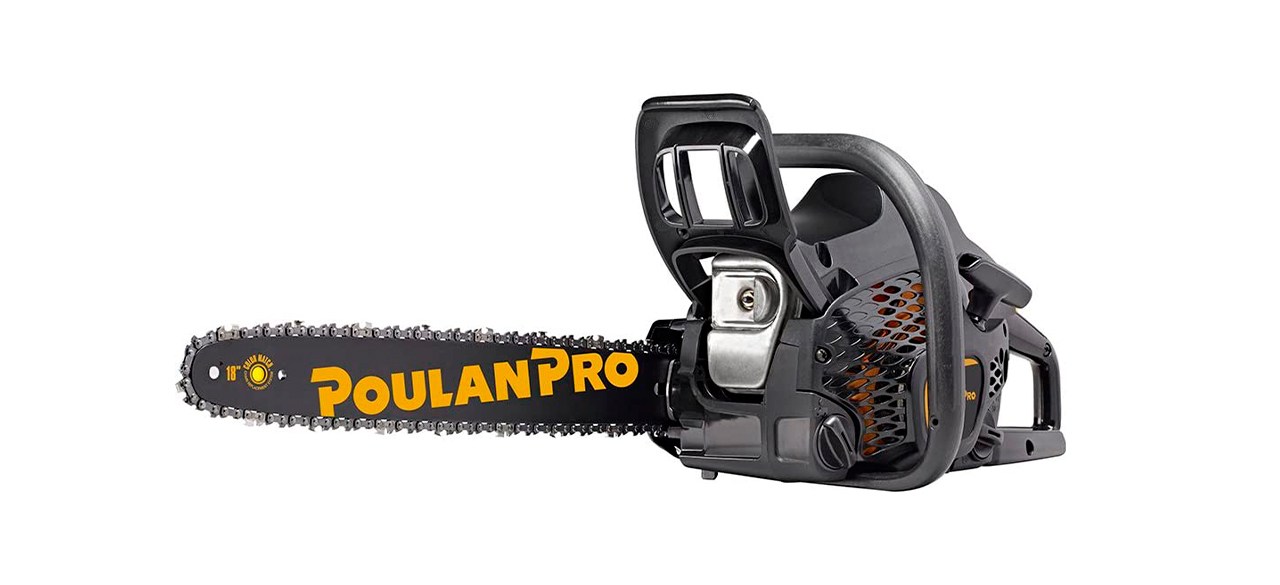 This is a good middle-of-the-road chain saw with solid power and reach so you can handle most tasks that get thrown your way. It comes with a case, too.
Sold by Amazon
Want to shop the best products at the best prices? Check out Daily Deals from BestReviews.
Sign up here to receive the BestReviews weekly newsletter for useful advice on new products and noteworthy deals.
Jordan C Woika writes for BestReviews. BestReviews has helped millions of consumers simplify their purchasing decisions, saving them time and money.
BestReviews spends thousands of hours researching, analyzing, and testing products to recommend the best picks for most consumers.
Copyright 2023 BestReviews, a Nexstar company. All rights reserved.